Today marks the 1st Set 2 card reveal! Before we get into that though, let's go over the product info for Set 2 and its accompanying Starter Decks which was recently revealed.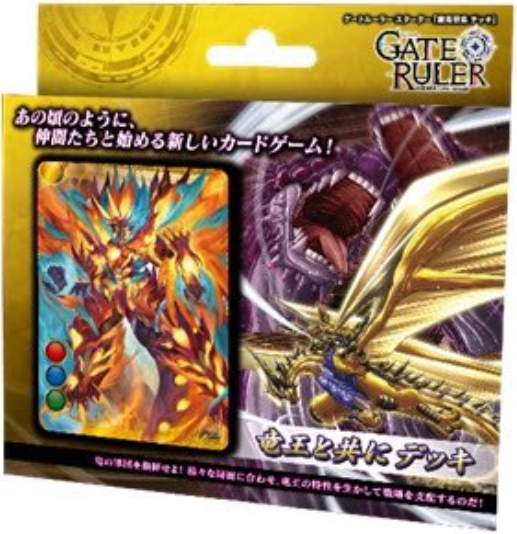 With the Dragon King
A Starter Deck centered on dragons like "Explosive Dragon King, Detonizer".
Included Factions: Volnar, Wonderverse
Card Types: 54 (1 Ruler [Reprint], 3 Energy [Reprints], 50 Deck)
Since it features Energy, and the Ruler is a reprint, it seems to be a Knight deck.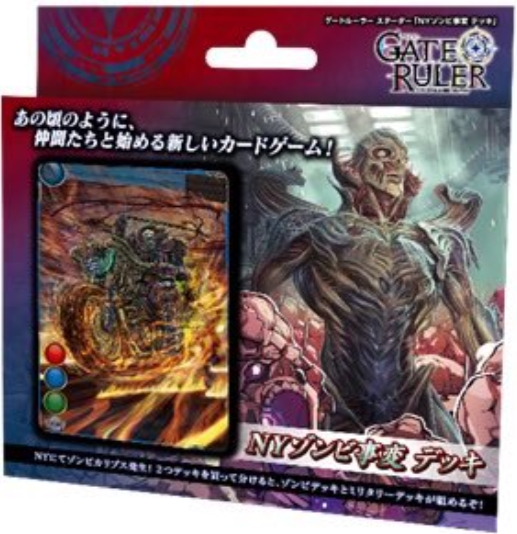 New York Zombie Catastrophe
If you buy two decks you can separate it into a Zombie deck and Military deck!
"Mechanized Infantry Battalion "Byakuya"" and "Yomajin Front Engineer Unit "Inagi"" will be reprinted.
Included Factions: ATLAS, Yomajin Front
Card Types: 55 (2 Rulers [Reprints], 3 Energy [Reprints], 50 Deck
Since both Rulers are reprints, its safe to assume they are Apprentice and Knight.
Surprisingly, neither Starter Deck seems to feature the new Rulers, and instead continue to feature the Rulers from Set 1.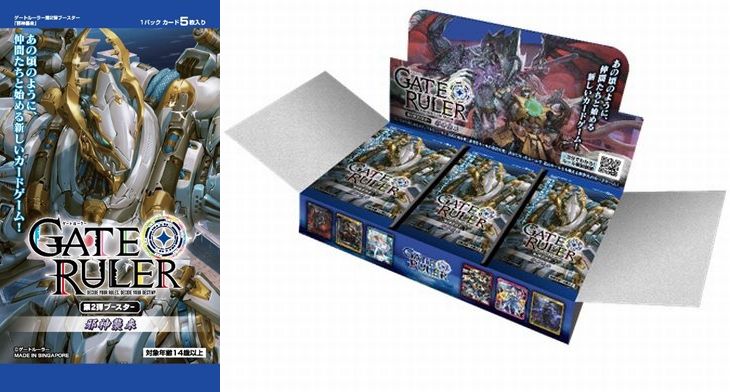 Evil God Advent
Card Types: 129 + ?
★: 59 types
★★: 26 types
★★★: 17 types
★★★★: 17 types
★★★★L: 4 types
Ruler: 6 types
Secret: ? types
Since there are 4 Legends, and the ★★★★ and ★★★ counts are the same as Set 1, its safe to assume Exvaders will still be getting very few cards, and will not receive a Legend. Should be noted since there's only 4 Legends this time, if the Starter Decks get 1 Legend again, 2 of the factions would end up with 1 more Legend than the others.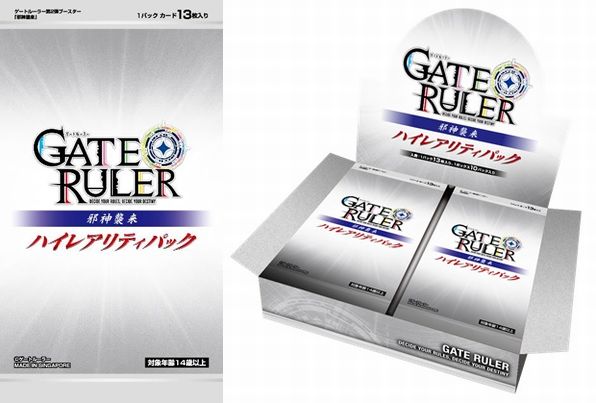 Evil God Advent - High Rarity Pack
Card Types: 168 + ?
★: 59 types + 39 types = 98 types (39 types from GS03 "With the Dragon King" and GS04 "New York Zombie Catastrophe", excluding the 2 reprinted cards)
★★: 26 types
★★★: 17 types
★★★★: 17 types
★★★★L: 4 types
Ruler: 6 types
Secret: ? types
With this we know there are 41 total card types between the 2 Starter Decks, a whole 7 card types above Set 1's Starter Decks. Its possible this is because of GS04 being built to be split into two decks.
Lastly, here is some information on Set 2's new Ruler cards that comes from one of Ikeda's streams. Thanks to
Super Solenoid
for transcribing this information.
Wizard
A Ruler that is a more difficult version of Knight. Energy can be generated by resting the Ruler, but the Ruler's stats are low. Its a technical Ruler that actively uses units that are played during the opponent's turn, like Alice.

Berserker
A smarter version of Apprentice.

Legion
A mystery.
With that said, onto Set 2 card reveal information, as well as our 1st card!
Set 2 product information has begun distribution.
We will be releasing new cards bit by bit on our official twitter.
In addition to that, even though the official influencer program has been temporarily frozen, after consulting with influencers, we would like to continue sending card reveals for the 2nd set to some influencers.
Please wait a bit.
(Sources:
1
2
)
In February, we will reveal cards from the 2nd set and its accompanying Starter Decks at a pace of 3-4 times a week. We will also reveal a card from each product in a trailer later this month.
(
Source
)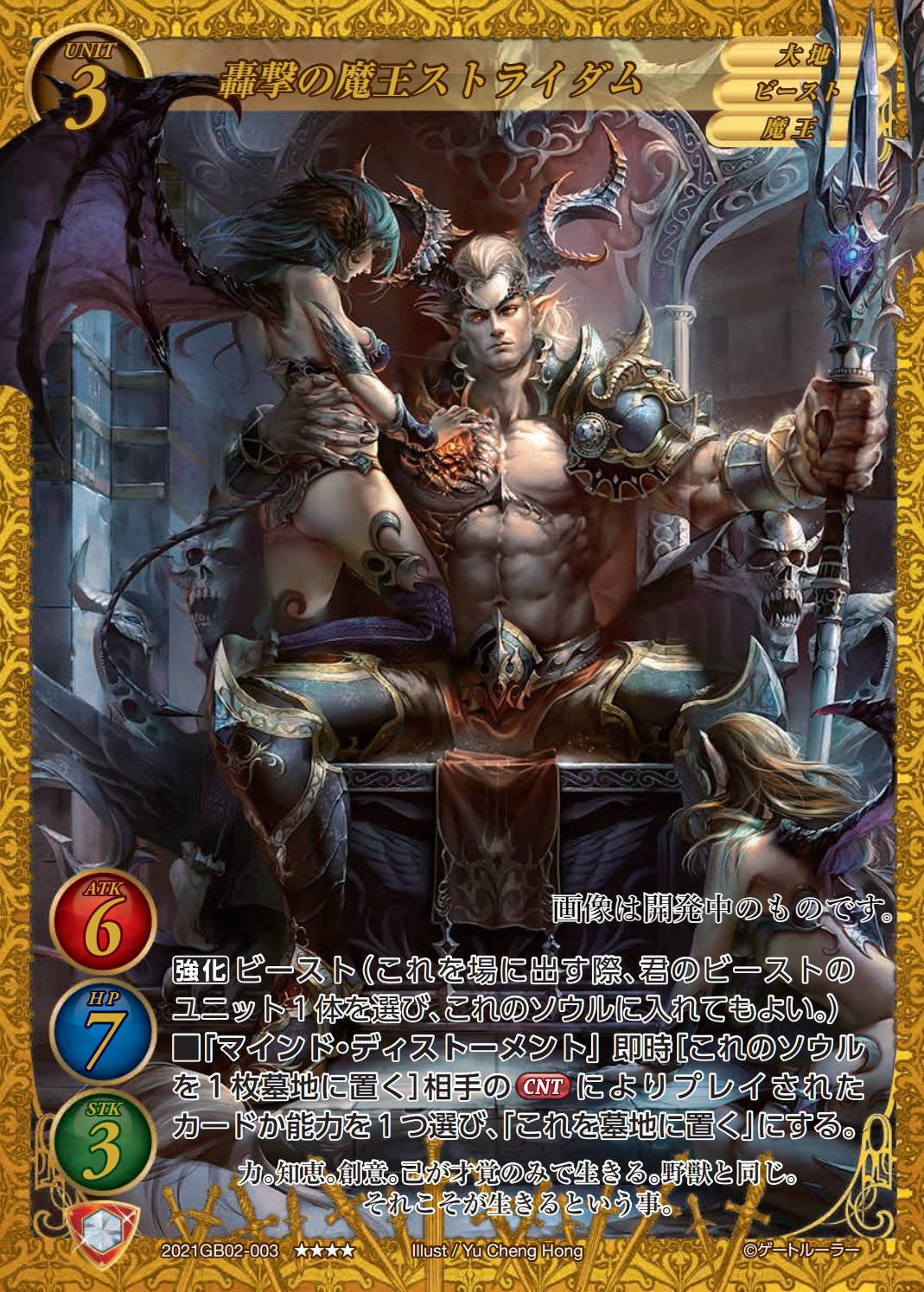 Roaring Demon Lord, Stridem
Card Number: 2021GB02-003 ★★★★
Faction: Volnar
Card Type: Unit
Level: 3
Attribute(s): Earth, Beast, Demon Lord
ATK: 6
HP: 7
STK: 3
Effect: [Enhance] Beast (On play, you may choose one of your Beast units and put it into this card's Charges.)
■ "Mind Distortment" Immediate [Put one card from its Charges into your graveyard] Choose one of your opponent's cards or abilities played by [CNT] and make it [put this to the graveyard].
Flavor Text: Wisdom. Ingenuinity. I live only by what I see. The battlefield is the same. That is what it means to live.
Introducing the Volnar ★★★★ "Roaring Demon Lord, Stridem" from the 2nd Booster Pack "Evil God Advent"
The 2nd set introduces the keyword [Enhance], which increases the synergy within an attribute.
Cards from the 1st set will become more and more important.
(
Source
)
An incredibly strong start to the Set 2 reveals! Stridem continues to build on Beast's anti-CNT theme established by Tiger of Id. Compared to Tiger of Id, this one is much more flexible, able to activate on a CNT from any of your attacks, however it only stops the CNT effect, and not the heal, but that's enough given the flexibility.
Statline is also incredible. 7 HP has proven to be very good, and 3 STK is very good for Beast's aggressive focus. And of course, those strong stats are only made stronger thanks to "Forest of Killers".
This card also strengthens "Monster Wolverine", as its [CNT] special summon provides easy fodder for its [Enhance] effect.
Finally, the first card from the 2nd set is officially revealed.
The [Enhance] keyword introduced here makes decks based on attribute synergies inevitable. Not all attributes will be getting [Enhance] cards, but please look forward to seeing what different [Enhance] cards will appear in the future!
Effects that destroy charges will also be interesting.
(
Source
)
The timing "On play" written in this card text is a first for the 2nd set. I believe it will be explained in the general rules when the 2nd set is released.
At first glance, it seems "When this enters the field" is fine, but if you did that, it would represent multiple different timings. That's why its written as "On play".
"When this enters the field" is independent as a phenomenon, but "On play" has the meaning of being tied to the action. That's why this word was chosen. In the case of this effect, "When this enters the field" would cause a problem.
Please wait for the general rules for details.
(Sources:
1
2
)
Stay tuned for Wild Force newcomers (and the long awaited Wild Force support event)!
(
Source
)
Announcement
2nd set reveals will begin in earnest in February, but if you have any questions about the rules regarding the cards in the 2nd set, we'll respond after the general rules for the 2nd set are released.
The general rules for the 2nd set will be released before the 2nd set itself.
Thank you.
(
Source
)
Edited by HunterSerge on 25th January, 2021 at 4:57pm CST