Today's card reveal is an adaption of the god from the parody religion, the Flying Spaghetti Monster. As detailed in
this article
that released alongside the card reveal, its explained that the Gate Ruler staff contacted the Japanese branch and received permission to use the Flying Spaghetti Monster in the TCG.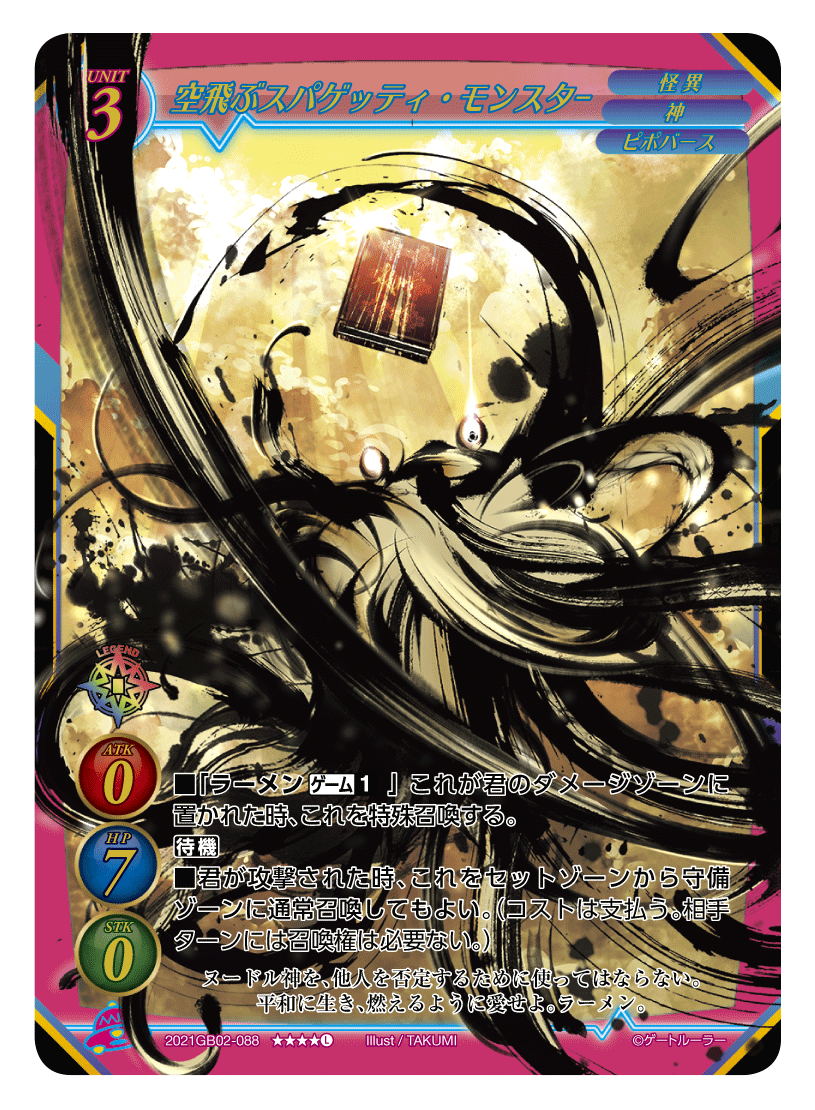 Flying Spaghetti Monster
[LEGEND]
Card Number: 2020GB02-088 ★★★★L
Faction: Wonderverse
Card Type: Unit
Level: 3
Attribute(s): Apparition, God, Pepoverse
ATK: 0
HP: 7
STK: 0
Effect: ■ "Ramen [1/Game]" When this is placed in your damage zone, special summon it.
[Standby]
■ When you are attacked, you may normal summon this from the set zone to your defensive zone.
Flavor Text: Do not use the noodle god to deny others. Live in peace, and love as you burn. Ramen.
Its effect is also a reflection of that permission. As the Flying Spaghetti Monster is not to be used in any oppressive manner, as part of respecting the religion, the card thus has no offensive capability, and can only be used defensively.
Lastly, we'll cover the part of the official site's article that talks about the card design.
According to the development and testing team "The strongest Legend card in the 2nd Booster Pack is definitely the Flying Spaghetti Monster".

Decks that feature it get an additional CNT, and the advantage it generates is close to a full turn.

For any deck that includes Wonderverse, its such a powerful card that it ends up an automatic inclusion. Legends are limited to 1 copy, so you only need 1 to make use of it, but its a Legend card you'll want multiple copies of so that you can use it in several different decks.
(
Source
)
Edited by HunterSerge on 17th February, 2021 at 6:24am CST